BIP|There is a shortcut to enterprise digital intelligence, but can business innovation go far?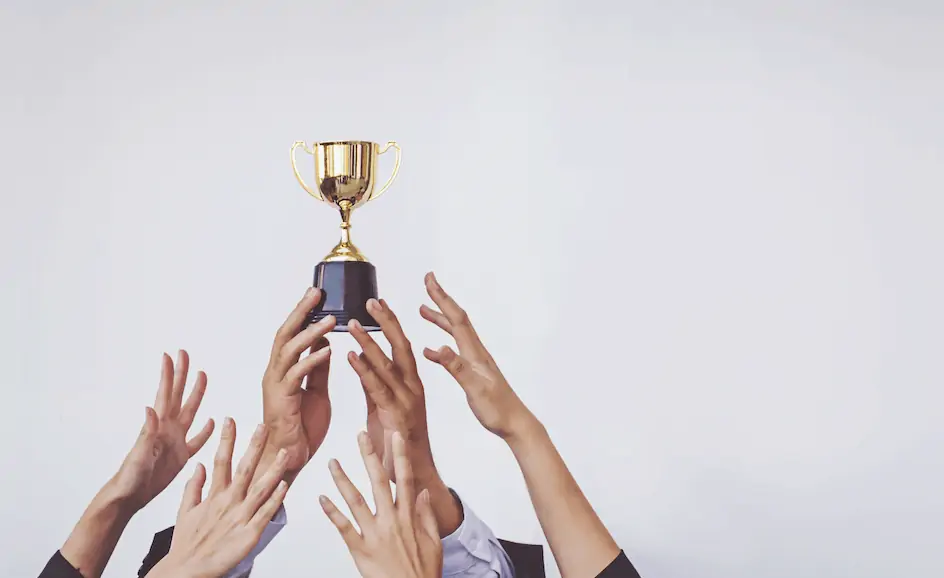 From the steam age, the electrical age to the information age, human society has experienced three industrial revolutions. From the invention of the steam engine to the rise of the Internet, technology has greatly improved the development of productivity and promoted social progress. Now that we have entered the intelligent era of Industry 4.0, how should human beings use information technology to promote industrial transformation?
Since the development of modern enterprises, informatization construction has become the cornerstone of enterprise management, and the informatization construction of Chinese enterprises with the ERP system as the core has continued for 20 to 30 years.
With the transformation of the industrial economy represented by carbon civilization to the digital economy based on silicon civilization, the integration of online and offline business scenarios is accelerating, and digitization is no longer a multiple-choice question, but a must-answer question.Whoever can effectively and quickly carry out business innovation and iteration, and promote the digital and intelligent transformation of enterprises will be able to take the lead in the digital economy.
Business innovation has a long and difficult road
The concept of "business innovation" is like an endless sea. All the ships sailing into this sea are looking for lighthouses, trying to illuminate the direction of progress with dim light.
And the journey has not been smooth sailing. According to a report released by the authoritative market research organization Gartner in early 2021, enterprises generally encounter three obstacles in the process of scaling up innovation:
– Strategically, companies often face underfunding, misalignment between innovation goals and business goals, and a disconnect between strategy and execution.
– In terms of process, companies often face incoherent innovation processes, lack of customer-centric thinking, and poor indicator measurement.
– Culturally, companies often face risk aversion and internal political struggles, Not My Invention (NIH) syndrome, and lack of diverse teams and ideas.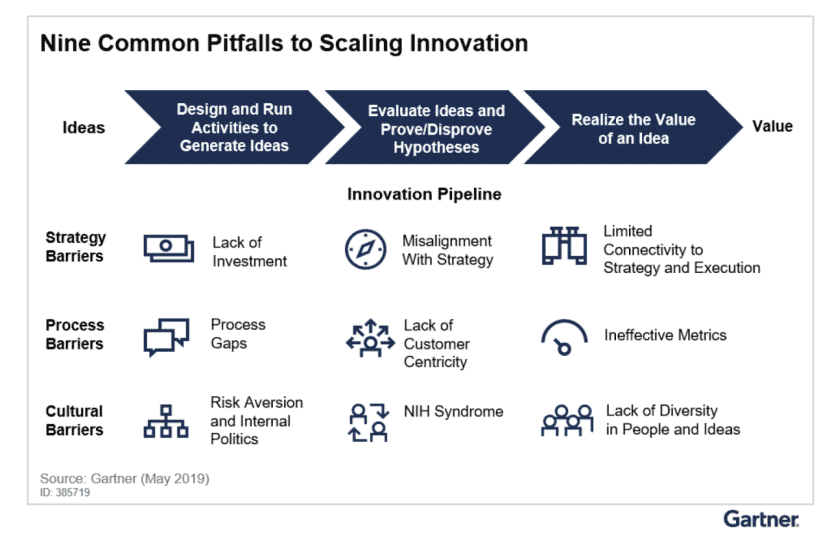 Business innovation centered on product and business innovation, organizational and management change is the most concerned issue for enterprises today. The digital intelligence of enterprises is closely related to product business and operation management, and is the key to transformation and upgrading.It is also the basis for business innovation.
Digital transformation is the key
"You have to start with the customer experience and then work backwards to the required technology — not the other way around."
So, how should enterprises promote digital and intelligent transformation and realize business innovation? UFIDA CEO Wang Wenjing summed up the eight keys for enterprises to understand and promote digital intelligence:
– Digitalization of enterprises,We must take strategy as the guide, business as the core, data as the foundation, and intelligence to generate value;
– In the process of promoting digital intelligence, enterprisesthe scene is the grip, starting from the pain point scenario of the enterprise;
– Connection is the premise, because this round of business innovation driven by information technology is based on networking, so connections must be generated first;
– Operation as a guarantee, digital intelligence is not an after-event processing system, it needs continuous operation;
– technology on the platform, Enterprises do not need to master complicated technologies, just choose a suitable platform and use the technical capabilities provided by the platform.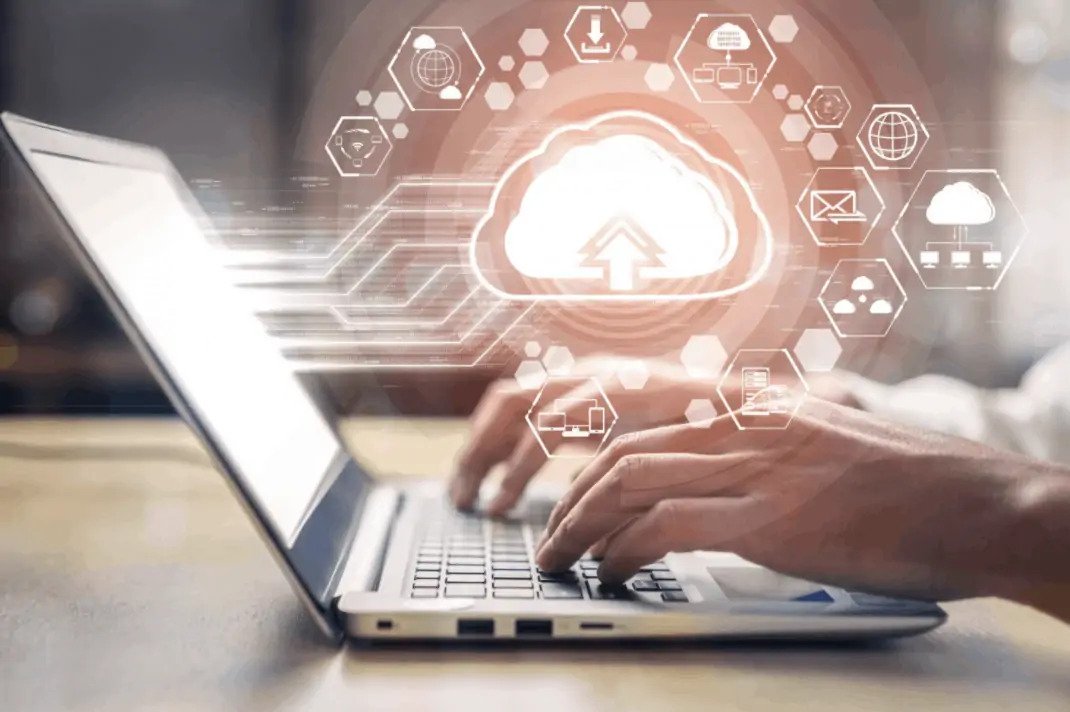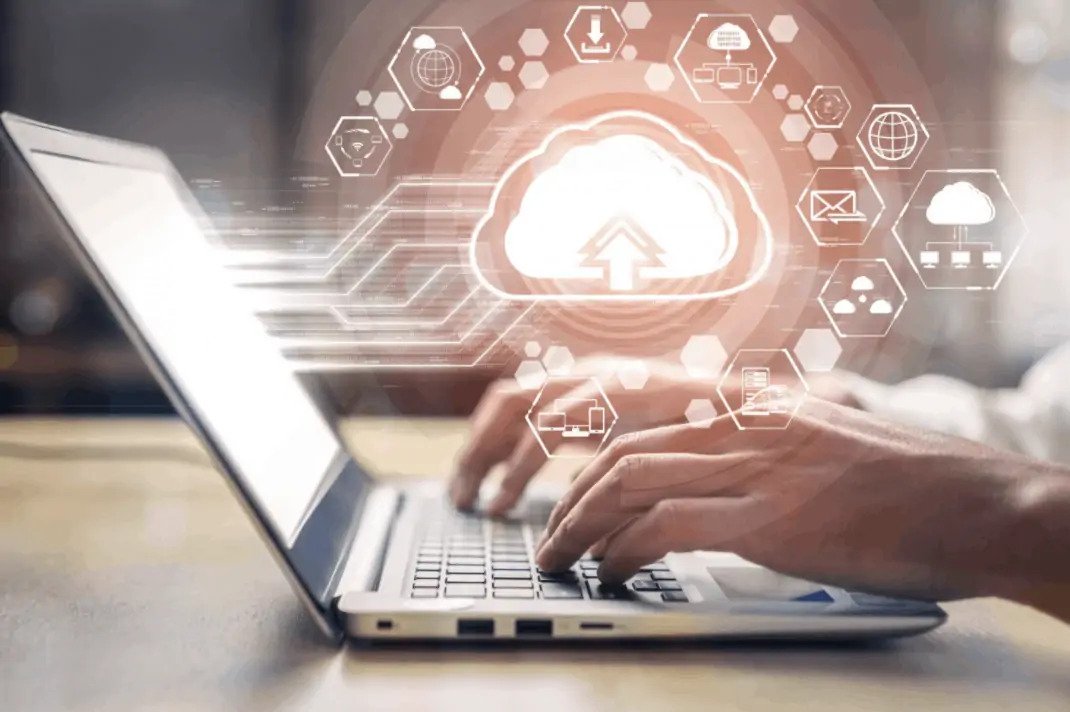 In the past, the IT team within the enterprise specialized in software customization and development.High cost, expensive, difficult to implementWait for the pain point. After the advent of the cloud era, the SaaS of application software has greatly lowered the threshold for using software, and various functional departments can build a large number of applications by themselves. Enterprises often need to spend huge sums of money to purchase a complete ERP system and go through a long deployment process; while SaaS uses the method of renting instead of buying to help enterprise customers go online quickly.
In order to help enterprises transform digitally and intelligently and further promote business innovation,We need a new model beyond ERP.
ERP (Enterprise Resource Planning) will not be limited to "resources" or "planning", but will pay more attention to the overallEnterprise business capability; Not only pay attention to the internal activities of the enterprise, but also have a wider range of applications. The functions of the ERP suite will be provided through cloud services or BPO/BPaaS, and enterprise resource planning will become more flexible and agile.
Driven by digital intelligence technology, the enterprise service industry will enter the stage of business innovation in an all-round way. Yonyou defines the new generation of digital intelligent enterprise service as BIP (Business Innovation Platform).
YonBIP, a business innovation platform for UFIDA, is the embodiment of the BIP concept. It is a platform-based and ecological cloud service group that UFIDA uses in accordance with the architecture design of cloud native (including microservices), metadata-driven, middle-platformization, and data-use separation, covering platform services, application services, business services, and data services. It integrates tools, capabilities, and resource services to serve enterprises and industrial business innovation.BIP is not only an enterprise resource management tool, but a new generation of digital and intelligent enterprise services, a strategic platform connecting internal management and external business innovation.Its core idea is to make business innovation simple and convenient.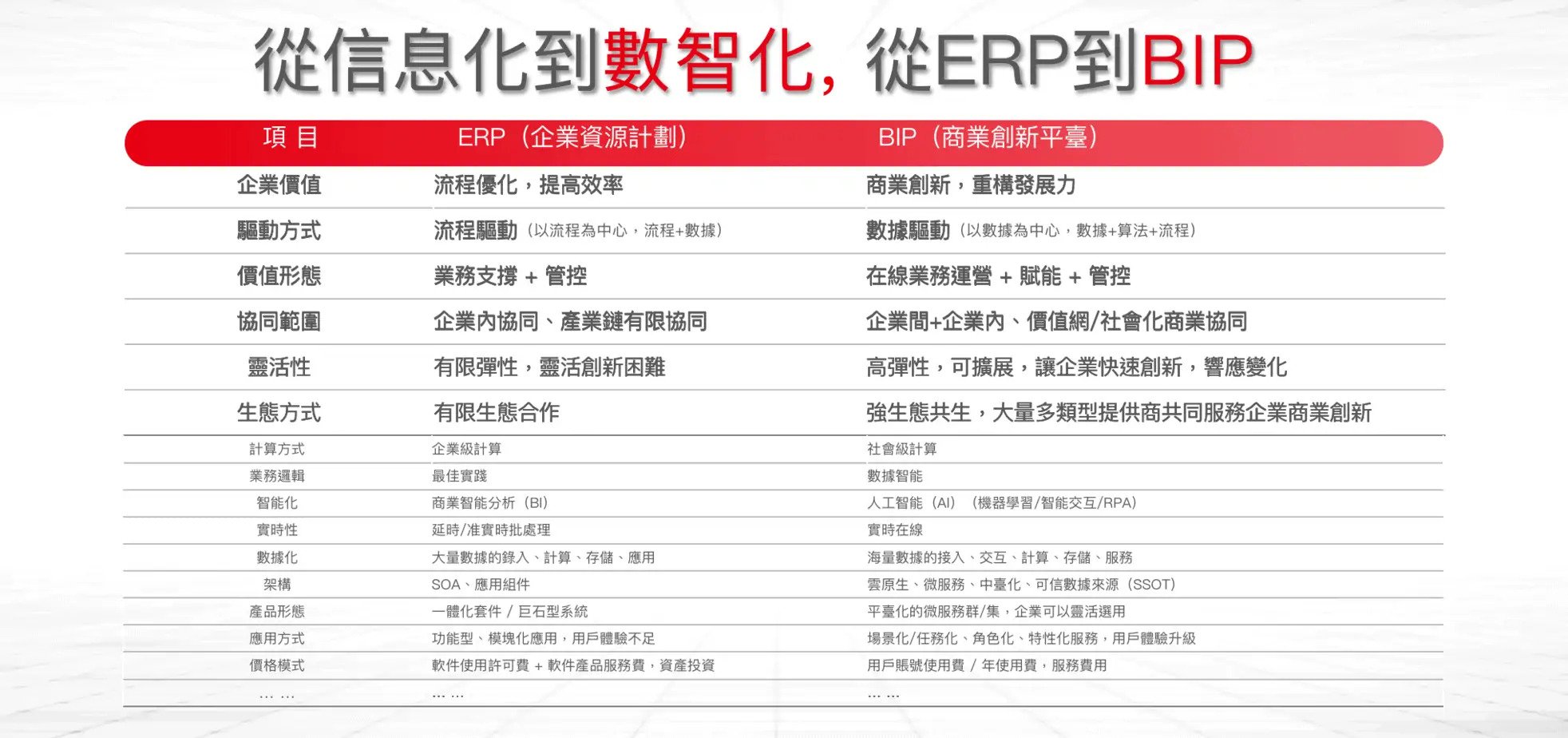 How does BIP help enterprises innovate in business?
From ERP (Enterprise Resource Planning, enterprise resource planning) to BIP (Business Innovation Platform, business innovation platform) will become an inevitable trend of industry development. Literally interpreted, ERP emphasizes the scope of the enterprise, BIP emphasizes business innovation, focuses on the platform, creates business + IT integration, and directly supports the business innovation of enterprises, rather than just providing enterprises with a set of IT tools for enterprises to develop themselves.
level of corporate value,The value that ERP brings to enterprises is mainly process optimization and efficiency improvement, while the core value that BIP brings to enterprises is business innovation and restructuring of enterprise development.
drive level,The ERP era is process-driven, focusing on enterprise internal resource planning and operation management, focusing on functions and processes; the BIP era is data-driven, focusing on empowering enterprise business capabilities and focusing on excellent user experience.
YonBIP can effectively help enterprises overcome the challenges of business innovationThree difficulties :
Strategically, adopt a new generation of technology architecture, reduce deployment costs, and closely integrate mature IT and business;
In terms of process, customer-centric, pull through the information needed in the data management stage, and break the data island;
Culturally, use low-code development tools to create business innovation applications, build a social collaboration platform, and build a complete ecological platform with partners.
In the era of digital economy, industrial connection, sharing, and collaboration have become more convenient and more important. Based on cloud-native technology, it is best to use ERP natively grown on the cloud to facilitate the upstream and downstream enterprises in the industrial chain to quickly access the industrial Internet. This is also an important function of BIP as an industrial Internet operation platform, helping core enterprises build upstream and downstream networks in the industrial chain.
From traditional ERP software to BIP business innovation platform, not only the needs of enterprise innovation, but also the enterprise service industry will undergo a systematic paradigm shift. The transformation of enterprises and IT manufacturers to the industrial Internet is a common development direction. The journey to achieve business innovation is long, and YonBIP is like a lighthouse leading the way of digital and intelligent transformation, making business innovation easier and more convenient.
Subscribe to EDM
訂閱EDM 獲取最新數智化洞察資訊
Subscribe to EDM
訂閱EDM 獲取最新數智化洞察資訊
Resources
You might also like